This is a 1 week, 3-day old manicure.
I cleaned, washed dishes, spray painted, sewed, blogged, and even
helped my hubby change the rotors on my van.
First, I start with taking Biotin daily.
It makes for beautiful skin and healthy hair and nails.
Put the kiddos in bed, clean up, and turn on a show.
Good manicures take time!
Next, I follow this method of manicure:
After cleaning hands thoroughly push back and trim cuticles if needed. Trim nails as needed.
1. Start by filing your nails for shape.
If you use an emery board, try to file in one direction to prevent breakage.
I usually round my corners slightly.
Be sure to file the sides as well as the tip!
2. Smooth edges and buff top of nail with buffing block.
Get the moon of the nail and sides.
Using a cotton pad soaked in acetone, wipe each nail from moon to tip.
Try not to touch your nails with fingers to prevent oil getting on them.
3. Base coat: Orly Bonder (Rubberized Base Coat)
This creates a rubbery surface that will help adhere your color to your nail. One thin coat is all it takes!
It will feel like rubber!
Good nail polish is worth the $$.
Cheap polish isn't going to last the way brands like Essie or OPI will.
Apply 1-2 coats of color, allowing 60 secs in between coats.
It goes on without being super thick, which I love.
That means, less bubbles and wrinkles.
And it is true to it's name! No chips!
Apply 1 coat over dried color, making sure to cover tip.
Clean up edges with fine Q-tip soaked in acetone.
For touch ups during the week:
When nails look a little dull or scratched, this shines them right up!
I've also come to love the Sally Hansen Salon Effects.
I put them on over the base coat and they last 10-14 days.
They are a good alternative if you don't have the time as they dry instantly.
They can be a bit costly, only 2 sets from one box at $9/box.
So for vacation, do it! Everyday, go with polish. ;)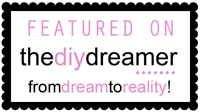 linking up:
Our Thrifty Ideas
DIY Dreamer
The NY Melrose Family
Pincushion Creations
Embracing Change
Too Much Time on My Hands